Common Lisp layer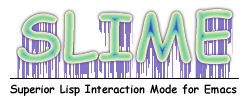 1

Description

A Spacemacs contribution layer providing Common Lisp support via SLIME.
2

Install

If you have previously installed slime in any other way, it is recommended that you uninstall it before proceeding. You should clean up any config files tied to slime that are left behind as well. Linux users can just purge the slime package if it was a distribution install.

To use this configuration layer, add it to your ~/.spacemacs. You will need to add common-lisp to the existing dotspacemacs-configuration-layers list in this file.

This layer defaults to using sbcl. If you want to use a different implementation of Common Lisp, you can specify it in your ~/.spacemacs
(

defun

 

dotspacemacs/user-config

 

()


  

(

setq inferior-lisp-program 

"/path/to/your/lisp"

)

)



3

Key Bindings
3.1

Working with lisp files (barfage, slurpage & more)

Spacemacs comes with a special lisp-state for working with lisp code that supports slurpage, barfage and more tools you'll likely want when working with lisp.

As this state works the same for all files, the documentation is in global DOCUMENTATION.org. In general, use SPC k to interact with the lisp-state.